ELEGANT & STYLISH OCEAN FRONT ACCOMMODATION ALONG THE FAMOUS GREAT OCEAN ROAD 
Seafarers Getaway is the outstanding accommodation for visitors to the famous Great Ocean Road and Twelve Apostles. Eight private hectares opposite Seafarer's pristine beach is the setting for breathtaking beach and coastal views from each and every Studio, Unit and Lodge. The rolling green hills and forest of the Otway National Park complete the backdrop of this unique accommodation. Perfectly positioned and easy to find with Great Ocean Road address, Seafarers is ideally situated for enjoying a break on the spectacular drive along the Great Ocean Road to the Otway National Park and world famous Twelve Apostles. Guests can also enjoy a quiet and private Getaway, simply relaxing, or walking Seafarers beach and the waterfall trails of the Otway National Park. Whales and dolphin pass by in the waves, koala are spotted in the gumtrees, and the Alpaca in the field can be hand fed.
The restaurants and cafes of beautiful Apollo Bay are only a few minutes away, where you can enjoy fresh local produce prepared for your dining pleasure or you may prefer to visit the Farmers Market, or the Fishermens' Co-op for some fresh Crayfish, Abalone or local seafood and prepare your delicacies in the kitchen and barbeque of your accommodation, whilst enjoying the spectacular beach and ocean views. At night the fresh clean air brings the Southern Stars alive, and with the 180 degree view from your deck and the telescope in your Top Lodge and Ocean View Studio they are close enough to touch. As a private getaway to relax and unwind or as a base from which to explore the spectacular Great Ocean Road, waterfalls of the Otway National Park, or the world famous Twelve Apostles, Seafarers Getaway has it all.
"Free cancellation and date alterations permitted, when made more than 7 days prior to arrival,
only available with direct bookings made here."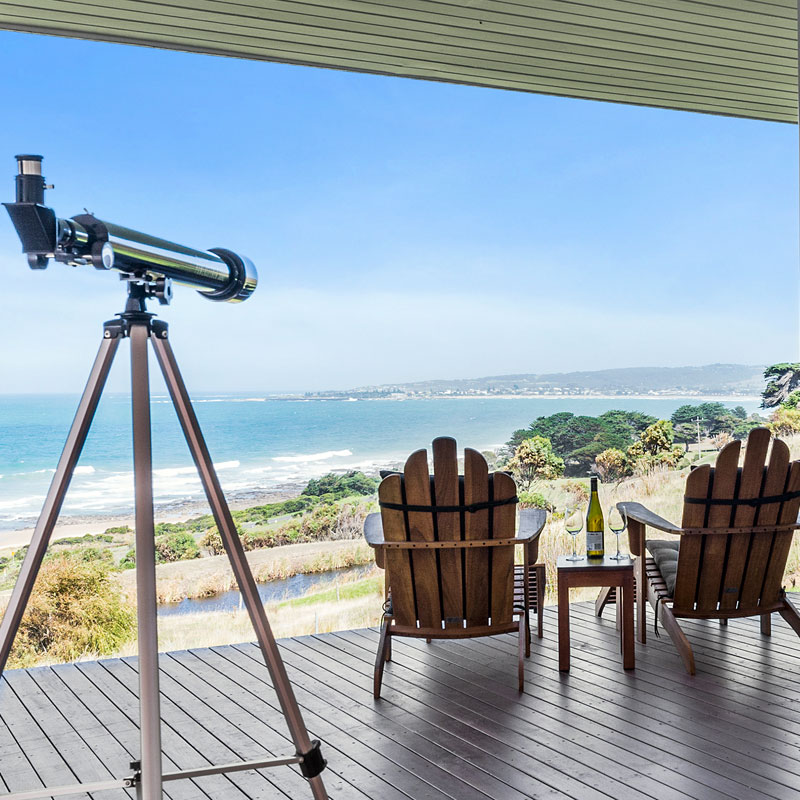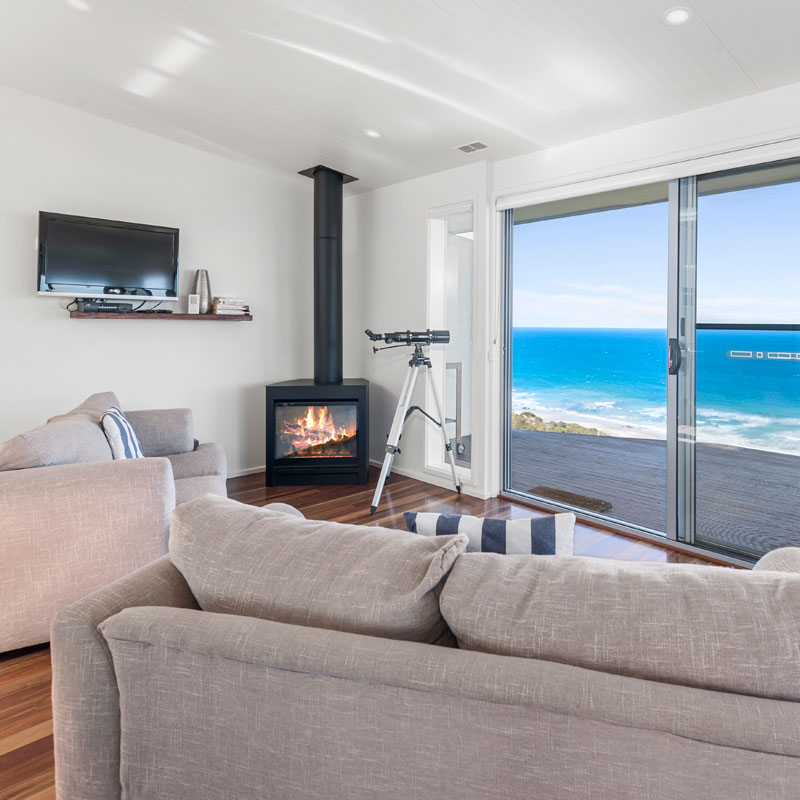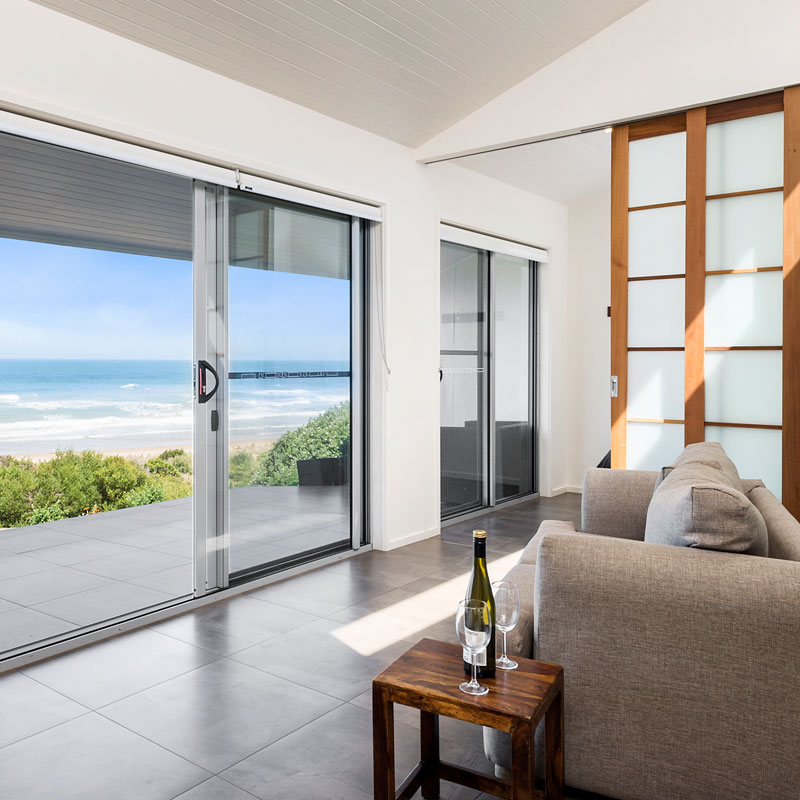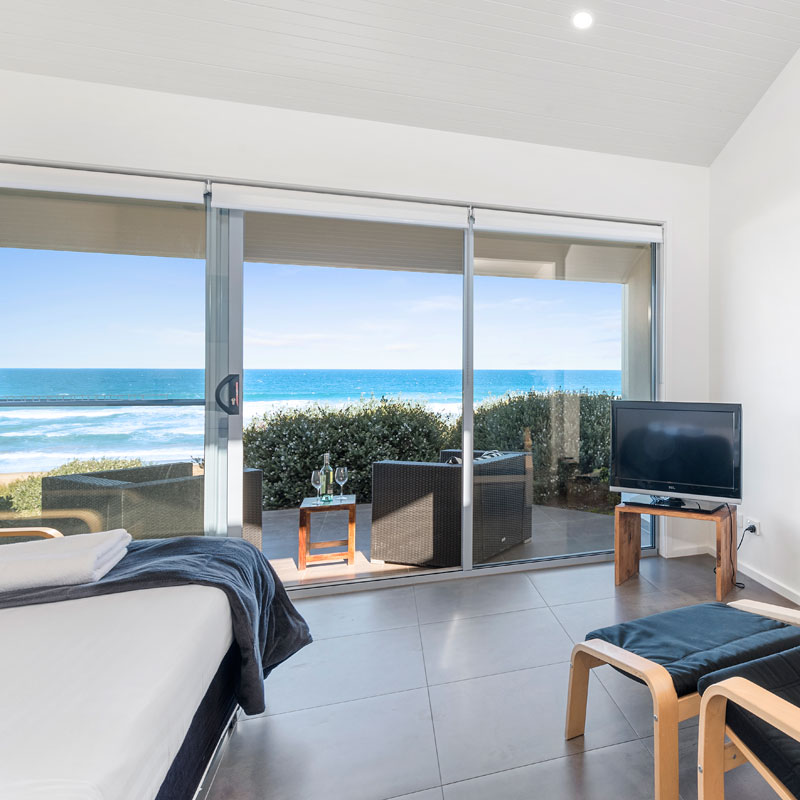 THINGS TO DO AROUND SEAFARERS

Seafarers Getaway beach front accommodation is the perfect base from which to explore the famous Great Ocean Road, Twelve Apostles and Otway National Park. Stroll a few minutes around Seafarers pristine golden sand beach to the spectacular waterfall. Walk along the guided trails of the Otway National Park and Great Ocean Walk. Sample Apollo Bay's restaurants, cafes and fresh produce from the Farmers Market and Fisherman's Co-Op, or spot whales, dolphin, koalas and kangaroo right at Seafarers and the Otway National Park. You can also feed the baby Alpaca, take a scenic flight from the Apollo Bay airfield and enjoy the panorama.
Sightseeing or relaxing around Seafarers Getaway is your perfect stay.